Welcome the newest additions of the P-K SOLIS™ model to the P-K product family! Patterson-Kelley is now introducing new SOLIS™ SL725-SL1000 models.
Built to transform the commercial boiler market, this top of the line, highly efficient, condensing firetube boiler is built with the end user in mind. The advanced design of the P-K SOLIS™ heat exchanger has the end user in mind when it comes to performance and longevity of a boiler.
725- 3000 MBTU (Natural Gas)

Up to 96% thermal efficiency
10:1 mechanical turndown
316 SS tube and tube sheet
304 SS heat exchanger shell
Fits through a standard 36" doorway
Hinged and removable doors allow for quick access to firetubes and burner for easy maintenance
Zero-clearance capable for side-by-side installation
The simple-to-use NURO® touch-screen technology adjusts boiler controls and settings with the swipe of a finger
Ultra-low NOx emissions
Heat Exchanger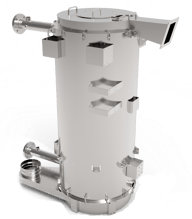 The stainless-steel heat exchanger in the P-K SOLIS™ is designed to maximize heat and overall efficiency. This 316 stainless steel tube and tube sheet provides extended corrosion resistance to the unit with a 304 SS heat exchanger shell for additional thermal resistance.
The heat exchanger is designed to provide ease of access for simplified and quick maintenance. The heat exchanger door swings open for full access to the tubes and burner inside the unit. This makes maintenance, including cleaning, a quick and cost effective process.
Mechanical Turndown
Our unique 10:1 mechanical turndown a the standard on all P-K SOLIS™ units. Patterson-Kelley has achieved this higher turndown through a unique process that allows the gas valves to reliably turndown without adding excess air. This allows designers the ability to match input to building loads without sacrificing reliability or efficiency.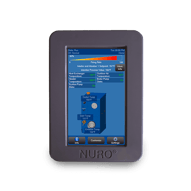 Our proprietary NURO® Control System is equipped standard on all P-K SOLIS™ boilers. Designed to maximize overall boiler efficiency, the NURO utilizes the most advanced technology available in a simple, yet intuitive interface. This ensures safe, efficient, and reliable boiler performance year-after-year. Using our app or any computer, you can view and manage your entire boiler room in minutes, from anywhere in the world.