Stainless Steel Heat Exchangers
Stainless steel has increased in popularity over time due to its success in a number of different environments and applications. Stainless steel commercial boilers have proven to be reliable and efficient in both retrofit projects and new installations.
If you are curious to learn why stainless steel has gained popularity in the heating industry, Patterson-Kelley has compiled a list for you that includes the top three benefits of owning a stainless steel commercial boiler.
Why ­choose a stainless steel boiler?
Corrosion & Oxidation Resistance

Stainless steel belongs to a large family of alloys which vary to accommodate different system characteristics. In a heat exchanger application, chromium is the key component in stainless steel. Chromium gives stainless steel corrosion resistant properties, but the performance and quality often depend on its grade. Patterson-Kelley uses both 304 and 316 grade stainless steel in its commercial boiler application because of its resistance to pitting and crevice corrosion in chloride environments. Stainless steel also has minimal reactions to contaminants in water systems and like all metals has a pH tolerance level. Oxygen entrained in fresh water makeup must be reduced to avoid O2 corrosion with any ferrous metal. Stainless steel can also withstand corrosion from flue gas condensate with respect to its pH and air quality requirements.

Great Mechanical Properties

Stainless steel has proven to be a strong heat exchanger material; therefore, its wall thickness can be reduced in a heat exchanger application. The material can also be cut, welded, bent, formed, machined, assembled and fabricated. This combination allows for a wide array of heat exchanger designs to be shaped around many different enclosure configurations. These properties give the material an advantage as to how flow is directed, so that the surface area can be maximized, while effectively handling configurations and model constraints.

Broad Temperature Range

Stainless steel holds up in both boiling and freezing temperatures. Austenitic stainless steel can maintain excellent strength in cryogenic or subzero temperatures because it contains high levels of chromium and nickel, and low levels of carbon. Other stainless steel alloys, like ferritic, martensitic and precipitation hardening should not be exposed to cryogenic temperature, as its grades can drop significantly. Austenitic grades also retain strength at boiling temperature, because of its elevated levels of chromium, making it more resistant to scale.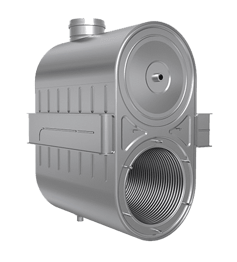 All heat exchanger materials have limitations to specific applications and system conditions. Understanding those limitations will help guide you in making the right decision for your heat exchanger material selection.
Patterson-Kelley has evolved over the years, adapting to lead the commercial heating marketplace. For more information about stainless steel condensing boilers, please visit our website at harscopk.com.