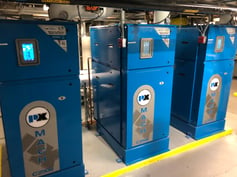 Changing the Perception of Aluminum Commercial Boilers
The commercial heating industry has faced an ongoing debate on the benefits of stainless steel heat exchangers versus aluminum heat exchangers. The process of choosing a new boiler has become confusing for both building owners and engineers.
The amount of conflicting information has led many boiler manufacturers to pick a side, and the perception of aluminum heat exchanger boilers has been misconstrued in the process. Yet, there is no clear evidence or proof that either material is superior to the other.
The heat exchanger is the part of the boiler that uses heat generated from fuel combustion to raise the temperature of heating water. Both aluminum and stainless steel condensing boilers achieve high efficiency by condensing water vapor in the exhaust gases and recovering its latent heat, which would otherwise be wasted. With condensing flue gases comes highly acidic water, which can adversely affect the fired heating surface. During the heating process, impurities and contaminants, like chloride and pH levels, can directly affect the water chemistry in the boiler. Regardless of the heat exchanger material (aluminum or stainless steel), EVERY boiler should be introduced and maintained with the appropriate air and water quality to prevent corrosion and scaling.
In this blog we will focus on the benefits of owning an aluminum commercial boiler, with the intention of breaking the stigma created by the ongoing debate. Keep in mind that Patterson-Kelley offers both, aluminum and stainless steel options, which places our team in an unbiased position.
Why Choose an Aluminum Commercial Boiler?
High thermal conductivity

According to the Kent's Mechanical Engineers' Handbook, the thermal conductivity of pure metals is inversely proportional to absolute temperature. Thermal conductivity is an important factor when selecting a heating unit because it defines the velocity at which heat passes through the material. Aluminum is considered a high purity metal and it is 8x better at thermal conduction than stainless steel. Even though aluminum heat exchangers require thicker walls in a commercial boiler application, it is also lighter in weight and it has a high strength to weight ratio. The thickness of the heat exchanger does not negate the heat transfer advantages.

Large Waterways

Large surface areas and water channels can deliver lower hydraulic resistance. This means that the water moves slowly through the heat exchanger which allows the returning water temperatures to absorb potential heat, resulting in higher efficiency. A cast aluminum heat exchanger design with large waterways also makes the system more tolerant to variable system conditions, including flow rate settings.

Corrosion Resistance

In contact with fresh water, the corrosion rate of aluminum is relatively high. However, after a few weeks, aluminum features a protective layer of aluminum oxide film, which significantly reduces the corrosion rate as well as the risk of oxidation. This layer is highly resistant to corrosion caused by acidity.

Longevity & Manufacturing Flexibility

The thickness of the heat exchanger walls can greatly improve the longevity of unit. Aluminum is also known for being flexible, versatile and economical. It provides casting capabilities, allowing extended heating surface areas with limited volume without compromising heat transfer rates.
Aluminum and stainless steel are both great heat exchanger materials and have excellent properties. The uniqueness of the commercial boilers is not only based on the material of the heat exchanger, but how the components work together. The key factors to monitor in a commercial boiler application, regardless of the heat exchanger material, include operation, water quality, air and fuel. These components will affect the life expectancy and maintenance requirements of the heating unit(s).
Patterson-Kelley takes pride in being the leader of aluminum commercial boilers in the United States. Due to technology improvements, Patterson-Kelley introduced its first aluminum condensing boiler with 10:1 mechanical turndown capabilities for the first time during March 2019. Patterson-Kelley has achieved higher turndown with a unique process that allows the gas valves to reliably turn down without adding large amounts of excess air, resulting in flexibility and efficiency. This method delivers a 10:1 turndown rate while preserving the dewpoint of a 5:1 turndown rate, which helps maintain high condensation levels. This higher turndown capability will provide designers the ability to match input to building loads without sacrificing reliability. No more nuisance flame failures that have traditionally plagued high turndown boilers.
For more information about Patterson-Kelley's aluminum boiler, please visit our website at harscopk.com.
Don't forget to leave a comment below!
Sources:
Einstein, A., B. Podolsky, and N. Rosen, 1935, "

Can quantum-mechanical description of physical reality be considered complete?

", Phys. Rev.

47, 777-780.

Salisbury, J. (1950).

Kent's mechanical engineer's handbook

(12th ed., Vol. , power volume /, Wiley engineering handbook series). New York: John Wiley.