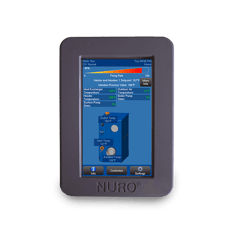 In our previous two blog posts, we have taken a deep dive into Patterson-Kelley's NURO® touchscreen control system. More specifically, the innovative and cost saving features and that separate it from other boiler controls in the industry. In this part of the Patterson-Kelley NURO® Control System series, we take a look at the upcoming iteration of the NURO®, the NURO® 2.0, and all of the capabilities it will offer our end users.
What is the NURO 2.0?
The NURO® 2.0 (NURO 2) is the natural next step in Patterson-Kelley's (P-K) NURO® control platform evolution. While building off of the outstanding features and capabilities of the current version, the NURO® 2.0 showcases many brand-new state-of-the-art features.
The NURO® 2 continues to operate on a unified platform for all of our gas-fired products and is designed to adapt to the demands of comfort heat and domestic hot water. Complete with a multi-core processor, a 7-inch color multi-touchscreen display, and an enormous collection of communication interfaces, the NURO® 2 will provide a more responsive, information rich, and connected experience for customers. After it's official release, the advanced technology of NURO® 2.0 will be equipped standard on all P-K gas-fired appliances, fully replacing its predecessor.
NURO 2.0 Innovations
The setup wizard on the NURO® 2.0's large color screen display, walks you through procedures to automate all of the NURO®'s configurable processes to the settings that make sense to you. Setting up larger heating systems are much easier with the ability to copy parameters between NURO® controls with simply a Bluetooth connection, wireless, or with the normal USB connection available.The NURO® 2 will provide communication with equipment closely associated with boiler and water heating applications. The powerful connection that the NURO® 2 provides allows for monitoring and alert capabilities remotely with nothing but an internet signal; which will now be available in wired as well as wireless options.
Much like its predecessor, the NURO® 2 allows for connection to NURO Connect®, P-K's remote boiler control application, so that you can view and control your entire boiler room from anywhere in the world. The NURO® and NURO Connect® app is a capability that comes included with every boiler sold, so there is no need for an additional hardware purchase, installation, or another subscription service. If you find that you are having trouble with your settings, trending data from all connected equipment are available on the NURO Connect® platform for you to view and download directly to your equipment.
The needs for heating solutions become easier to manage with the NURO® 2's scheduling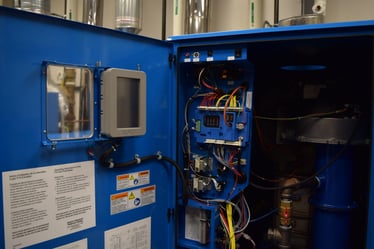 capabilities where you can fully configure a 7-day schedule for a diverse building load profile. Through virtual relays, the NURO® can control multi-purpose pumps, valves and other equipment in a single relay. The capabilities/quantities of these relays will be developed as well as the options available to select for relays and the NURO 2 is rolled out. Additionally, the control system provides an intuitive "black-box-style" analysis of errors so that you can see a full view of what is happening in your heating equipment at all times. User configurable passwords and embedded protection help protect important settings so the user is sure that the information contained is safe without the need for additional control firewalls.
The NURO® 2 can record data and sensor information four times faster than its predecessor, giving you precise data on exactly how efficiently your boiler room is running, without need of separate data capturing tools. If you hate going back and forth between the product and manual to look up codes or parameter descriptions-- That won't be an issue with the NURO® 2, as they come to you right on the main user interface, saving you time on your installs and maintenance. With Modbus, 4-20mA, and BACnet/LonWorks signal options, the NURO® 2 provides full support for building management systems. This time around, the BACnet/LonWorks signal support options are now as easy as opening up the NURO® and adding in an expansion card.
Setting the NURO 2.0 Apart
The easier and faster it is to process requests for operation, regulation, and analysis from comfort and water heating equipment, the more impact there is on overall system efficiency. The ability to connect all sensors like outdoor air and flow, units either from PK or from other manufacturers, and close-coupled equipment such as pumps and valves, PK drives a greater impact on the system's capabilities to accurately control all of these devices, streamlining your boiler room and making your building systems run as efficiently as possible. With the addition of more open ports to connect with a more diverse option list on the NURO 2, PK further closes the gap between a stand-alone boiler and a full building management system. This is in-line with the goal to operate the comfort and domestic heating systems as efficiently as possible.
Patterson-Kelley built their original NURO® control system in-house from the ground-up with efficiency as the goal in mind. This new level of control technology builds upon this, optimizing the overall system efficiency that Patterson-Kelly is known to provide. This powerful connectivity is offered at no additional cost, which allows for speed of integration without the worry of an additional price tag. The NURO® 2.0 is expected to launch as a standard on Patterson-Kelley products mid-year 2021.
To learn more about our current NURO® control and NURO Connect® system, please visit www.pattersonkelley.com/solutions/controls/nuro/